We are proud to help our client family as they forge forward with their socially conscious businesses to offer support for those impacted by the coronavirus and their continued support to the community as a whole. Below are some of their stories we'd like to share.

Photo credit: Nourish
Nourish
In addition to their daily operations, our friends at Nourish are working with the national organization Frontline Foods and World Central Kitchen to feed our healthcare workers and first responders with as many meals as possible. Want to make sure our frontline workers are getting the nourishment they need to do their heroic work? Donate at nourishcharlotte.com All funds donated to the cause will go directly to feed people on the front line of this crisis.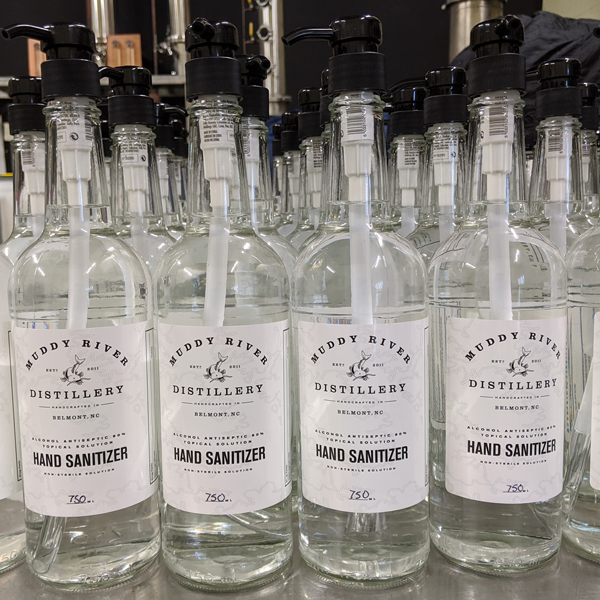 Photo credit: Muddy River Distillery
Muddy River Distillery
Muddy River Distillery shifted production to create clean, non-toxic hand sanitizer for first responders and now have it available for the whole family. You can visit them at their distillery Wednesdays & Saturdays 12pm – 5pm for curbside pick up. Visit muddyriverdistillery.com for more info.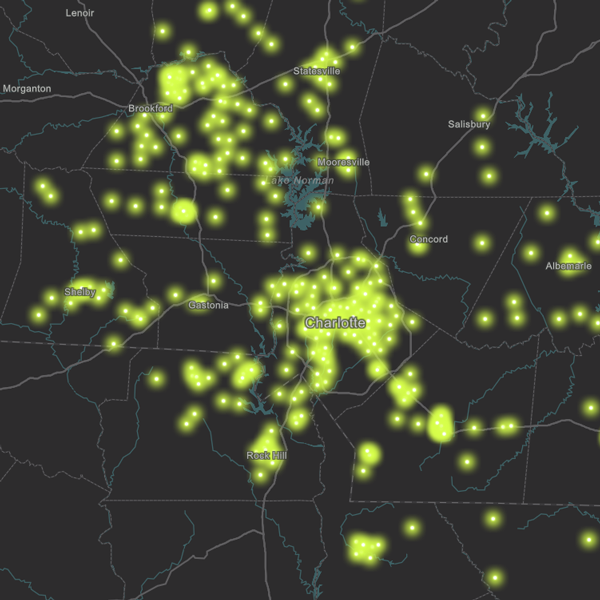 Photo credit: Rivendell Farms
Rivendell Farms of the Carolinas
Rivendell Farms of the Carolinas has put together a map of emergency food sources for the Charlotte area. Resources include drive-up distribution points, free lunch program locations and resources for seniors and children. To access the map please visit cltfoodmap.maps.arcgis.com

Photo credit: Eight + Sand Kitchen
Eight + Sand Kitchen
When you spend $25 or more, you will be passing on a donation of 15% directly to their team members who are suffering with lay offs and/or extremely reduced hours and need help during this time. The more you spend, the more assistance you provide. More at eightandsandkitchen.com

Photo credit: Freshlist
Freshlist
For a way to support local farms, farmers and food artisans, Freshlist has launched an online market. You can order anything from farm fresh meats, eggs, cheese and produce to meal kits and premade vegan meals. Order for pick up at designated locations around Charlotte or for delivery at freshlist.com

Photo credit: PCG
Piedmont Culinary Guild
Piedmont Culinary Guild and their Executive Director, Kris Reid, have been working hard to stay up to date on the most current information regarding COVID-19 to share with the community and help to support farmers, farms and the F&B industry. Visit piedmontculinaryguild.com for more information or consider donating to them so that they can continue to offer support to maintain our local food system.

Photo credit: Sweet's
Sweet's Syrup
Sweet's All Natural Elderberry Syrup is packed with antioxidants and vitamins that boost your immune system and help prevent and ease allergy, cold and flu symptoms. Especially in times like these, boosting your immune system and staying healthy is incredibly important. Sweet's donates a portion of their profits to local causes and initiatives including providing school lunches for kids in need and the Isabella Santos Foundation. You can order online at sweetssyrup.com or around several retail locations throughout the Southeast.

Photo credit: Inizio Pizza
Inizio Pizza
Inizio Pizza was able to provide 100 pizzas to Charlotte's medical professionals and hospital staff thanks to Caroline Elliott's #CLTStrong campaign which is supporting local restaurants as well as frontline workers during the current crisis. Inizio is continuing with business and supporting their staff and the medical community as much as they can through these trying times. You can order online for curbside pickup (or delivery through one of their partners). More at iniziopizza.com

Photo credit: The Chef's Farmer
Dogwood Meadows Farm
Dogwood Meadows Farm is a third generation family-owned farm in Gastonia and farmed by Jamie Swofford (The Chef's Farmer). They offer sustainably grown produce including a Quarter Bag CSA available for pick up each week at Free Range Brewing. Follow them and learn more at instagram.com/dogwoodmeadowsfarm

Photo credit: Milk Glass Pie
Milk Glass Pie
Milk Glass Pie has launched #FrontPorchPie, a weekly delivery of freshly baked pie delivered to your door (or front porch, if you will). The pies are made from scratch using all local ingredients from local farms and often sell out. Buy a pie for yourself or a neighbor (while respecting social distancing of course) and share some goodness and pie love in the world. Visit milkglasspie.com to order.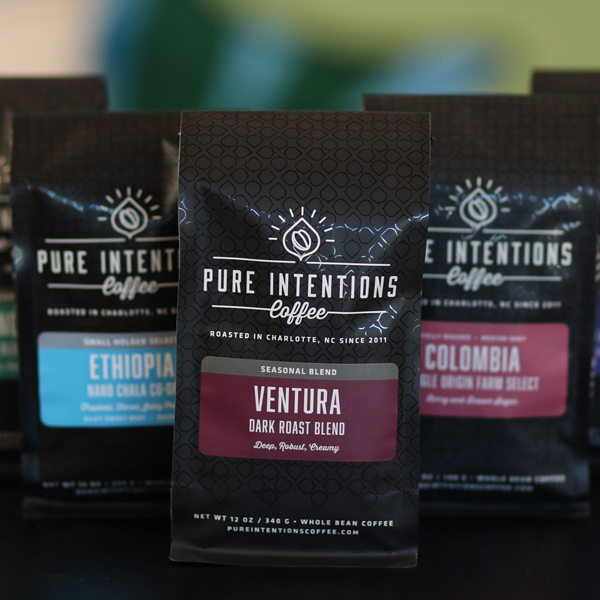 Photo credit: Pure Intentions Coffee
Pure Intentions Coffee
Pure Intentions Coffee is offering bulk coffee delivery directly to your doorstep to help you get through your day working from home. They're also offering online classes. Pure Intentions Coffee is a big supporter of the community, serve on several nonprofit boards and work hard to train and support their staff as well as many F&B folks in the region. Check them out and support this small business as they support and fuel Charlotte. More at pureintentionscoffee.com